Disney Buying Lucasfilm for $4 Billion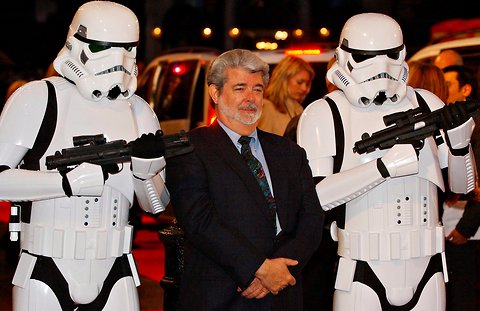 Disney Buying Lucasfilm for $4 Billion
By
MICHAEL CIEPLY
Richard Lewis/European Pressphoto Agency George Lucas in 2005, flanked by stormtroopers from his "Star Wars" films.
2012/10/30 8:22 p.m. | Updated LOS ANGELES — The Walt Disney Company, in a move that gives it a commanding position in the world of fantasy movies, said Tuesday it had agreed to acquire Lucasfilm from its founder, George Lucas, for $4.05 billion in stock and cash.
The sale provides a corporate home for a private company that grew from Mr. Lucas's hugely successful "Star Wars" movie series, and became an enduring force in the creation of effects-driven science fiction entertainment for large and small screens. Mr. Lucas, who is 68 years old, had already announced he would step down from day-to-day operation of the company.
Combined with the purchase of Marvel Entertainment for $4 billion in 2009 and of Pixar Animation Studios for $7.4 billion in 2006, the acquisition solidifies Disney's status as a leader in animation and superhero films. And it strengthens the legacy of Robert A. Iger, Disney's chief executive, who has become known for his aggressive expansion of the company since taking charge in 2005.
Mr. Iger is set to step down as chief executive in March 2015, but will remain with Disney in a lesser role under an employment deal he reached with Disney last year.
Like the Marvel acquisition, the Lucasfilm purchase caught Hollywood and Wall Street by surprise. It was announced on Tuesday afternoon, while the New York Stock Exchange was closed because of Hurricane Sandy.
In a hastily convened conference call with investors late Tuesday, Mr. Iger said Disney planned to revive the Star Wars franchise and release a seventh feature film in the series in 2015, with new films coming every two or three years thereafter. Mr. Lucas will be a consultant on the film projects, Mr. Iger said.
Mr. Iger said Disney acquired a detailed treatment for the next three "Star Wars" films as part of the acquisition. He noted that the last film in the series, "Star Wars: Episode III — Revenge of the Sith," was released in 2005, a period that he said has created "pent-up demand."
Jay Rasulo, the company's chief financial officer, said Disney's financial calculations in agreeing to purchase Lucasfilm were driven almost entirely by the potential of the "Star Wars" series, which already has a place in the Disney theme parks. Lynne Hale, a spokeswoman for Mr. Lucas, said he was on a flight back to San Francisco from Los Angeles and could not immediately be reached. "It's now time for me to pass 'Star Wars' on to a new generation of filmmakers," Mr. Lucas said in a statement.
The companies said Disney would pay approximately half of the purchase price in cash, and would issue about 40 million shares of stock to cover the balance when the deal closes. Mr. Rasulo said Disney expects within two years to repurchase those shares. Lucasfilm, he said, should begin enhancing Disney's earnings by 2015.
With the acquisition, Disney will acquire Lucasfilm's live-action production business, along with its Industrial Light & Magic effects business, its Skywalker Sound audio operation and its consumer products unit, among other things. Ms. Hale noted that Mr. Lucas's Skywalker Ranch and other physical properties in Marin County, Calif., were not part of the deal, and would remain with Mr. Lucas.
Kathleen Kennedy, a longtime associate of Steven Spielberg who recently agreed to become co-chairwoman of Lucasfilm, will now be its president, reporting to Alan F. Horn, the chairman of Disney's movie studio.
Lucasfilm is based in San Francisco, and now, in combination with Pixar — which operates across the San Francisco Bay in Emeryville — it will give Disney, based in Burbank, a major presence in Northern California.
After the release of the first "Star Wars" film in 1977, Mr. Lucas's Industrial Light & Magic took the lead in developing effects technologies that were used in a generation of science fiction and fantasy films. Eventually, other companies, including Weta Digital, a New Zealand company co-owned by the filmmaker Peter Jackson, rose to prominence in that field.
Asked about the future of Industrial Light & Magic, Mr. Iger said: "Our current thinking is we would let it remain as is." In a later interview, Mr. Iger said Disney would be prudent in handling the Lucas operations, but was also mindful of the need to "reap the value" it sees there.
Along with "Star Wars" and its many iterations on movie screens, in television programming, in video games and elsewhere, Mr. Lucas has been a partner in the "Indiana Jones" series, and, occasionally, in an unrelated film, like "Willow," though Disney executives said they were not relying on those films for future profit.
Mr. Rasulo told analysts that Lucasfilm's consumer products licensing revenue, about $215 million this year, is roughly comparable to the amount of licensing revenue Marvel had when Disney bought it three years ago.
Currently, Mr. Rasulo added, Lucasfilm's licensing revenue comes mostly from toys and heavily from North America. Disney, he said, is positioned to extend the licensing business to other products and to strengthen it internationally.
Asked by an analyst about Mr. Lucas's reasons for selling at this point, Mr. Iger said, "I don't want to put words in George's mouth." But he noted that Mr. Lucas has said he began planning his retirement four or five years ago.
Speaking later, Mr. Iger said talks were conducted personally between Mr. Lucas and himself, and began about a year and a half ago in Orlando, Fla., where the two spent time while reopening a "Star Wars" attraction at Disney World.
Of Mr. Lucas's willingness to put his creative legacy in Disney's hands, Mr. Iger said: "There was a lot of trust there."
A version of this article appeared in print on 10/31/2012, on page B1 of the NewYork edition with the headline: Disney Is Buying Lucasfilm.