賀中國海軍CV-18.福建號航空母艦竣工下水成功China launches 3rd aircraft carrier named the Fujian.
.
China launches 3rd aircraft carrier in Shanghai, named the Fujian.
The Fujian (hull 18) is Chinas 1st fully domestically developed aircraft carrier with catapults. It uses electromagnetic catapults and arresting devices, and has a displacement of more than 80,000 tons...
中國海軍第三艘航空母艦命名為「中國人民解放軍海軍福建艦」,舷號為18。福建艦是大陸完全自主設計建造的首艘彈射型航空母艦,採用平直通長飛行甲板,配置電磁彈射和阻攔裝置,滿載排水量8萬餘噸。
第三艘航母下水後,將按計劃開展系泊試驗和航行試驗。.
.
20220617.AM:11:00.不忘初心,牢記使命.
賀,中國海軍自製型,第2艘航空母艦,CV-18.
福建號,成功舉行下水典禮.
上海江南造船廠,風和日麗,陽光普照,良辰吉日,CV-18.成功順利下水,意味中國海軍迎接新的航空母艦服役,CV-18.
福建號,引起美國海軍特別注意,中國海軍如何利用常規動力傳統型的航空母艦,使用電磁彈射系統EMALS.
將艦載機彈射升空作戰?.
.CHINA NAVY CV-18. SO GREAT.
.
China has launched its third aircraft carrier, the first such ship to be designed and built entirely within the country. State media reports said the 003 new-generation aircraft carrier christened Fujian left its drydock Friday morning.20220617.
J-15B.34 ton.weight how to  fly rise(take off) from CV-18.?
Developing |

 China launches Fujian, PLA Navy's 3rd aircraft carrier
After at least two delays, the Type 003 warship has left the Jiangnan shipyard in Shanghai, according to Chinese state media

The vessel is China's first carrier to use an electromagnetic catapult to launch planes from its deck.
China's third and most advanced aircraft carrier was launched on Friday from the Jiangnan shipyard in Shanghai, according to state broadcaster CCTV..
The Type 003 warship, named the Fujian and with a hull number of 18, is the first carrier in China's fleet to use an electromagnetic catapult to launch planes from the deck, which is faster than the older steam catapult system..
The launch began at 11am with the singing of the national anthem and a flag raising ceremony. After the ribbon was cut, the Fujian was christened with a bottle of champagne smashed against its hull.
The vessel sounded a blast on its horn as it moved slowly out of Jiangnan shipyard's No 4 dock..

The advanced catapult system, called the electromagnetic aircraft launch system (EMALS), is more energy efficient and reduces maintenance. It is used also on the US Navy's Gerald R. Ford-class carriers.
Unlike China's other two aircraft carriers, which are equipped with ski-jump take-off ramps, the Fujian features a flat top flight deck. The new vessel also has a displacement of more than 80,000 tonnes.
CCTV said the testing of the carrier's mooring and navigation systems will be the first priority after Friday's launch.
The launch of the Fujian is believed to have been delayed at least twice. It was initially expected to be unveiled on April 23 for the PLA Navy's 73rd anniversary but was postponed because of Covid-19 lockdowns in Shanghai.
It was then expected to launch on June 3, to coincide with the Dragon Boat Festival but was again postponed without explanation.
.
China launches high-tech aircraft carrier in naval milestone.
 Beijing launched a new-generation aircraft carrier Friday, the first such ship to be both designed and built in China, in a milestone as it seeks to extend the range and power of its navy.
The Type 003 carrier christened Fujian left its drydock at a shipyard outside Shanghai in the morning and tied up at a nearby pier, state media reports said.
State broadcaster CCTV showed assembled navy personnel standing beneath the massive ship as water jets sprayed over its deck, multi-colored streamers flew and colorful smoke was released.
Equipped with the latest weaponry and aircraft-launch technology, the Type 003 ship's capabilities are thought to rival those of Western carriers, as Beijing seeks to turn its navy, already the world's largest, into a multi-carrier force.
Satellite imagery captured by Planet Labs PBC on Thursday and analyzed by The Associated Press showed the carrier in what appeared to be a fully flooded drydock at the Jiangnan Shipyard, near Shanghai, ready for launch. It was draped with red bunting, presumably in preparation for the launch ceremony.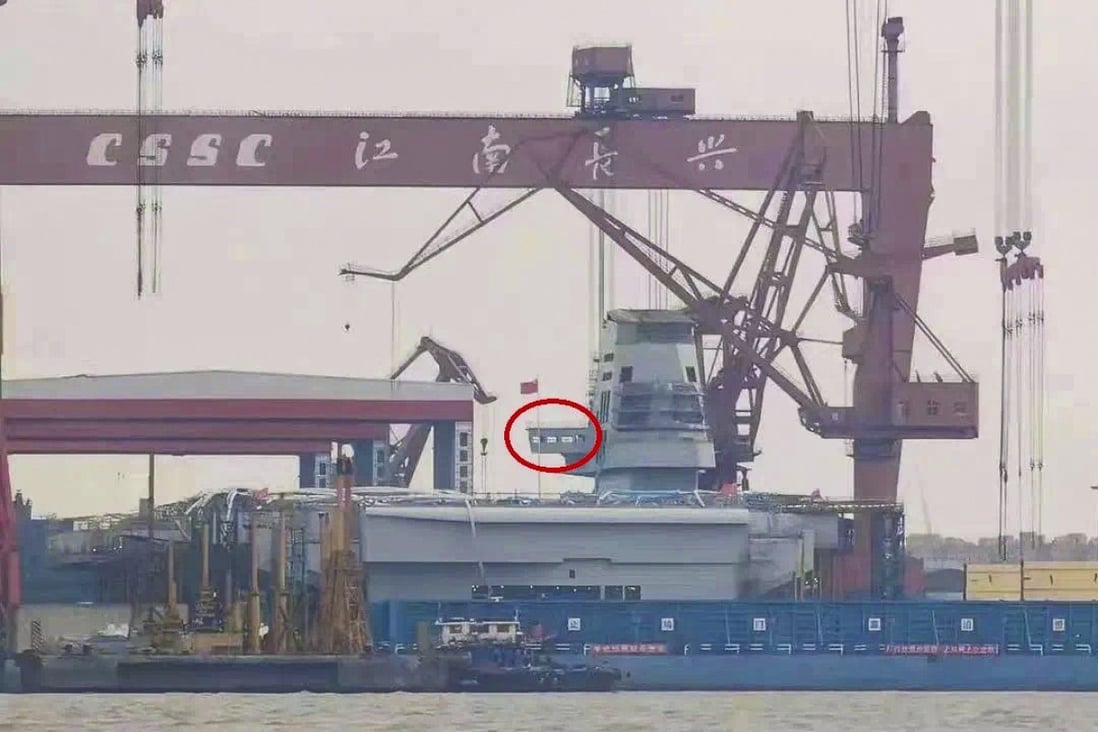 .
There're two types of
CATOBAR
systems – steam and electromagnetic.
While most CATOBAR systems are steam driven, only the U.
S.
Navy's new Gerald R.
Ford class of carriers and France's Charles de Gaulle use electromagnetic catapults called EMALS (Electromagnetic Aircraft Launch System).
The Type-003 will be using similar electromagnetic catapult.
However, unlike America's EMALS, Chinese engineers have successfully developed a new electromagnetic catapult technology called
IEP (Integrated Electric Propulsion)
system.
This allows China's third aircraft carrier to have not only the "flattop" design, but also uses an electromagnetic catapult system – even though it does not have a nuclear reactor (all U.S.
aircraft carriers are nuclear-powered).
The Chinese IPS is designed to significantly increase fuel efficiency for the aircraft carrier's conventional power plant. Another reason China did not copy EMALS – the unreliable of the U.S.' electromagnetic catapults. In May 2017, President Donald Trump criticized EMALS during an interview with Time, saying how the EMALS costs hundreds of millions of dollars more, but with critical failures.
.CHINA
has been far and away the most aggressive in asserting its claim to virtually the entire waterway, its island features and resources.
The U.S. Navy has sailed warships past artificial islands China built in the sea that are equipped with airstrips and other military facilities. China insists its territory extends to those islands, while the U.S. Navy says it conducts the missions there to ensure the free flow of international trade.
In its report to the U.S. Congress last year on China's military capabilities, the Department of Defense said the carrier development program was critical to the Chinese navy's continued development into a global force, "gradually extending its operational reach beyond East Asia into a sustained ability to operate at increasingly longer ranges."
.CHINA CV-18.MODLE TO FIGHT. with US/CVN/CBG.
.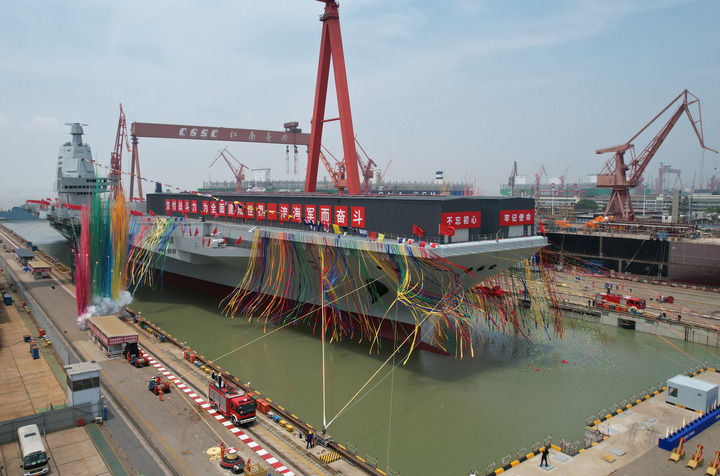 20220617.AM 06:00. CV-18.Photo..
Fujian
Chinese aircraft carrier Fujian.
Fujian (18; Chinese: 福建舰; pinyin: Fújiàn Jiàn) or the Type 003 aircraft carrier is a second-generation Chinese aircraft carrier under outfitting for the Peoples Liberation Army Navy (PLAN) of China. Completed and launched on June 17, 2022, Fujian is Chinas first aircraft carrier to use a CATOBAR system[ and electromagnetic catapults, as well as the first supercarrier built outside the United States.]
The Type 003 was originally designated by observers as the Type 002 when Shandong, Chinas then-incomplete second carrier, was called Type 001A. Shandongs official designation, Type 002, was revealed during commissioning. Observers hence believed the third carrier will be Type 003.
The Type 003 was originally intended to use steam-powered catapults.] In 2013, PLAN Rear Admiral Yin Zhuo said that Chinas next aircraft carrier would be equipped with an electromagnetic launch system.[17] Multiple prototypes were spotted by media in 2012, and aircraft capable of using the system were tested at naval research facilities.[] The change to electromagnetic (EM) catapults likely explains the increase in size from previous Chinese carriers.[]
Construction began in the mid-2010s. The exact date is not known; The National Interest reported March 2015;] The Diplomat reported that "initial work" had begun in February 2016, followed by a notice to proceed given to the Shanghai Jiangnan Shipyard Group in March 2017.[] Works were reportedly delayed in June 2017 by electromagnetic and steam catapults tests.] By November 2017, the Navy had reportedly developed an IEP system - in lieu of nuclear power - to power electromagnetic catapults, allowing work on the Type 003 to resume.[
The block modules were moved from the manufacturing facility to the staging area in May 2020, and into dry dock in July 2020. Almost all of the keel and base hull blocks were in the dock by early September 2020; the foremost part of the bow was missing. Measurements based on satellite and aerial photography suggested a hull/waterline length of 300 meters - nearly the flight deck length of Chinas existing carriers - a maximum beam of 40 meters (131 ft 3 in), and a displacement of more than 85,000 tonnes (84,000 long tons).[] In mid-2020, anonymous Chinese sources projected a launch in the first half of 2021.] In September 2020, Rick Joe of foreign affairs magazine The Diplomat projected a launch in mid-2022 at the earliest.[]
In July 2021, satellite pictures showed that construction was moving ahead, with key elements such as the superstructure and three catapult launch systems being added to the hull.[] On 10 November, Bloomberg reported that "China is three to six months away from launching its third aircraft carrier", citing a report by the Center for Strategic and International Studies.[]
The aircraft carrier was launched on 17 June 2022. The vessel, named Fujian, was launched with a hull number of 18.[] China expects the carrier to enter service in 2023.]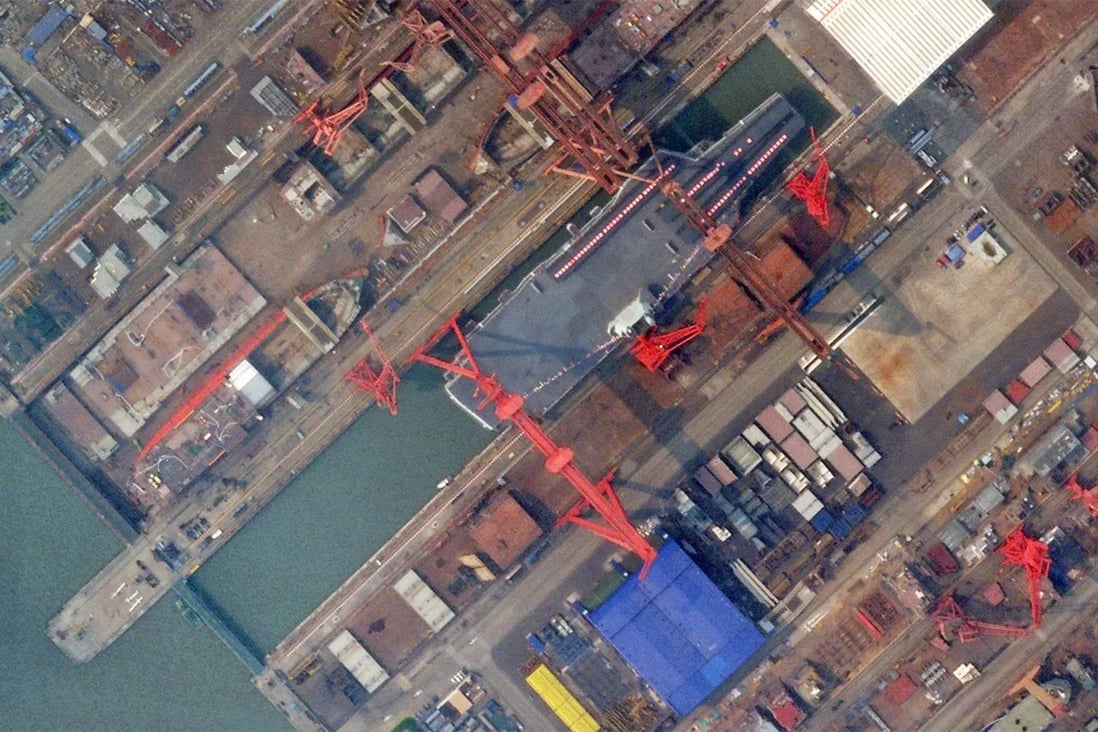 .
China's development of the Type 003 carrier is part of a broader modernization of China's military. As with its space program, China has proceeded extremely cautiously in the development of aircraft carriers, seeking to apply only technologies that have been tested and perfected.
At the moment, China is not believed to have the aircraft developed to fully realize the potential of the new carrier, Rahmat said.
It is not known how close China is in the development of its KJ-600 AWACS aircraft, which it began testing in 2020, to have it ready for carrier operations, and there is "little evidence" it has begun work on carrier onboard delivery transport aircraft, he said.
Now that it is launched, the carrier will have to be fitted out, which could take two to six months. Then there will be harbor acceptance trials and sea trials, which will likely take another six months before engineers begin launching test loads using the catapult system.
"The first aircraft will only be launched from this carrier perhaps in late-2023 to 2024, and full operational capability will likely be declared closer to 2025," he said.
迴響(5) :
5樓. red square 123

2022/06/21 13:12

red square 123 於 2022/06/21 13:12回覆

4樓. red square 123

2022/06/18 17:38

red square 123 於 2022/06/18 17:38回覆

3樓. red square 123

2022/06/18 17:34

.

red square 123 於 2022/06/18 17:37回覆

2樓. red square 123

2022/06/17 18:52

This is an important milestone for China's military-industrial omplex," said Ridzwan Rahmat, a Singapore-based analyst with the defense intelligence company Janes. "This shows that Chinese engineers are now able to indigenously manufacture the full suite of surface combatants associated with modern naval warfare, including corvettes, frigates, destroyers, amphibious assault ships, and now an aircraft carrier," he said. "This ability to construct a very complex warship from the ground up will inevitably result in various spin-offs and benefits for the Chinese shipbuilding industry." China's first carrier was a repurposed Soviet ship, and its second was built in China but based upon a Soviet design. Both were built to employ a so-called "ski-jump" launch method for aircraft, with a ramp at the end of the short runway to help planes take off.

The Type 003 employs a catapult launch, which experts had said appears to be an electromagnetic-type system like one originally developed by the U.S. Navy. China's official Xinhua News Agency confirmed the Fujian employed the electromagnetic system in a report on Friday's launch.Such a system puts less stress on the aircraft than older steam-type catapult launch systems, and the use of a catapult means that the ship will be able to launch a broader variety of aircraft, which is necessary for China to be able to project naval power at a greater range, Rahmat said."These catapults allow aircraft deployed to carry a more extensive load of weapons in addition to external fuel tanks," Rahmat said.

red square 123 於 2022/06/17 18:53回覆

1樓. red square 123

2022/06/17 13:29

red square 123 於 2022/06/17 13:29回覆