McDonald's customers whip food incidents of violence ax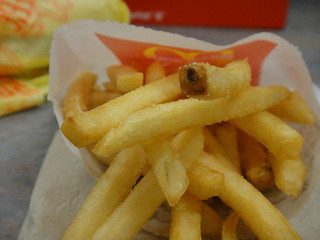 mcdonalds french friesThe restaurant and fast food worlds have seen a lot of violence lately. The most recent offense was an ax attack at a French outpost of McDonald's near Paris. According to the Huffington Post, a customer whipped out an ax in front of the drive-thru employee after finding that his French fries were cold. The suspect broke the drive-thru window with the ax and proceeded to throw his weapon into the McDonald's. Luckily no one was injured and the man drove off
set up business
. He was later found and arrested by the police.
Another potato-related incident occurred at a stateside McDonald's after a couple didn't receive hash browns with their order. ABC reports that this led to a bag of food being thrown at the store manager and several 911 calls, first from the couple, then the employee, and also from an innocent bystander. The couple says they called because the manager wouldn't give them a refund or the food they initially ordered and the employees called because the couple was being "belligerent." Now the Arizona husband and wife are being charged with assault and disorderly conduct
Bo Ying Compound Eu Yan Sang
.
Check out some other recent violent food related incidents :
Restaurant Owner Stabs Armed Robber with Sushi Knife
Knife-Wielding Sushi Chef Chases Customer Who Skipped Out on Bill
Man Tries to Get Free Tacos with Sword and Death Threats
Victim Catches Pizza Thief on Facebook

限會員,要發表迴響,請先登入