Learn More:Who is the social network manager?
Introduction 
The role of social media executives is projected to increase by 10% by 2026, which means that most companies have come to the conclusion that social networking is absolutely essential; But managing them alone will no longer be possible.
Fortunately, a large number of social media enthusiasts have turned their love of these spaces into a full-time job, which has benefited many companies. Join us in this article to review the job of managing social networks.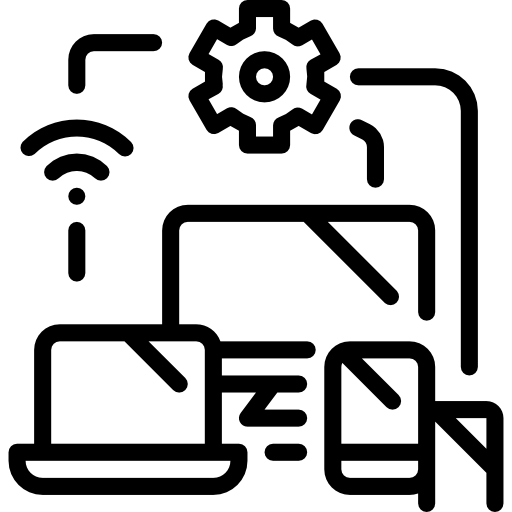 Who is the social network manager?
A social network manager is someone who makes decisions about a company or brand's social networks. In fact, a social network manager is the voice of a company in cyberspace and digital. These people use various platforms such as Twitter, Facebook, YouTube, Instagram, Pinterest, etc. to introduce a company, brand or product to its target audience, and by creating a community to increase participation and awareness about that company. Their efforts will ultimately lead to an increase in audience and sales.
 

What are the duties and responsibilities of a social network manager?

Managers of social networks have different duties and responsibilities depending on the company or brand they work with. The first and most important task of these people is to implement a social media strategy for a brand. In other words, they have a responsibility to create an effective presence for a company on social media by using different strategies.

 At the same time, their jobs include community management, content development and production, answering questions, media coverage, and monitoring campaign performance.

Also, a social network administrator is required to use the A / B test to optimize the performance of the company in cyberspace. The data obtained from this test helps these people to make better decisions to increase audience participation with awareness, analysis and practical insight.

The most important responsibilities of social network managers include the following:
Applying creative and attractive strategies
Daily management of all social network pages of a company
Monitor, plan, and deliver content across platforms using programming tools such as Hootsuite and.
Developing, launching and managing competitions, new challenges and campaigns that promote a company or brand.
Creating key relationships with influencers in different social contexts
Expanding audience relationships by responding to social posts and developing discussions
Monitor, track, analyze and report on a company's performance across platforms using tools such as Google Analytics.
Research and evaluate the latest trends and techniques to find new and better ways to work in social networks
Analyzing the activity of competitors
Efforts to increase brand awareness, increase customer engagement, increase sales and return on investment, and gain audience trust and loyalty
Managing, motivating and coaching core employees such as social media executives or assistants
Budgeting for a brand's activities on social media
Types of social network manager
A social network manager can have a variety of roles:
COPYWRITER (AUTHOR OF PROMOTIONAL CONTENT)
Writing public content for all social media pages may make your brand less visible, so it is important to have a social network manager who can maintain a brand voice in line with different social contexts.
For example, a skilled social network manager might write in Instagram captions in a calm and pleasant tone; But on the LinkedIn network, which has a more specialized environment, it has a strong and business-oriented tone.
 A copywriter is usually responsible for creating content for specific networks and creating short social posts of 140 to 200 words. Necessary skills for these people include text writing, brand understanding, versatility and creativity.
PRODUCER OF MULTIMEDIA CONTENT
With the rise of visual operating systems such as Snapchat and Instagram and the launch of features such as live and storytelling, there is now a greater need for social media executives with multimedia skills. The main focus of this type of managers is on creating the image, video and visual content necessary for the growth of the audience. Experience working with basic design, photography and videography software and creativity are among the necessary skills in this field.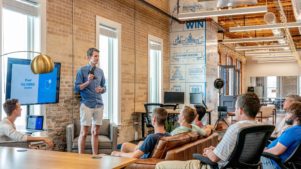 SOCIAL MEDIA METRICS ANALYST
A social media manager must be able to search for data, analyze it, and take action. A successful social media manager knows how to use data to make informed decisions. At the same time, this person should not be so involved in statistics that he or she avoids risk-taking experiments and work, as these people should be able to constantly test new strategies, new content, and new campaigns.
INTERPRETER AND NEWS ANCHOR
One of the types of social media managers is someone who finds new opportunities for the company by following the news and trends of cyberspace. This person needs to know where to look for company news and what people are saying about it.  news content can increase audience traffic and engagement, so it is important for a social network manager to be aware of the news and be able to respond to it tactfully.
CUSTOMER SERVICE REPRESENTATIVE
The person who manages social media constantly receives questions or criticisms about the company's services and products that may not always be positive. A customer service representative must be able to communicate well with different people at different stages of the purchase. To communicate successfully with your audience, they need to be familiar with their brand, products and services. Among the skills required in this field are the ability to communicate, adaptability, willingness to solve other people's problems, the ability to troubleshoot and be patient.
ASSOCIATION MANAGER
The job of an association manager is to turn the audience of a brand or company into a community and involve them in the company's activities. In fact, these people, by asking key questions and creating online conversations with users, persuade them to act and communicate, which is useful for increasing the brand community.
MARKETING MANAGER
Social media provides an opportunity for brands to easily increase their audience and turn them into customers, but this can only be achieved through the sharing of appropriate content by social media marketing managers. These types of managers need to practice skills such as understanding the sales funnel, knowing the steps of the sales funnel, basic sales skills, and strong communication.
PROJECT MANAGER AND CAMPAIGN COORDINATOR
A project manager meets with colleagues to plan projects or social campaigns. When a social network manager effectively creates new and creative campaigns and projects, he / she can occupy the hearts and minds of the audience about the brand's activities. Skills required for this job are strong organizational ability, strong communication, negotiation ability and data-based decision making.
What is the work environment of a social network manager?
A social media manager can work in an office environment or at home. Since most of the work in this job is done on a computer or mobile phone, it is easier to do it at home. Of course, larger companies often prefer social media managers to work in an office environment to work with the advertising and marketing team when needed.
Skills that a social network manager should have
Here are some skills you need to practice being a social network manager:
COPYWRITING
Social media executives are always writing, sometimes sending more than a dozen posts in a day. These people need to know that every social network needs a different writing style. For example, posts posted on LinkedIn need a professional tone and those posted on Twitter need a fun tone to be seen.
Copywriting skills help managers to create messages that are quickly understood by the brand audience and create positive emotions for the audience. Writing short and effective headlines, attractive introductions, creating beautiful and legible text structures (using bolts and numbering) in It is very effective in attracting the attention of the audience.
https://www.youtube.com/watch?v=DWEZkslFdjg
 COMMUNICATE
Social media managers need to make sure they have the skills needed to stay in touch with customers. This is because the audience usually goes to the social pages of brands to get answers to questions about products and services, and if someone is not willing to answer, their perception of that brand will be completely distorted.
According to statistics, 86% of consumers stop buying or receiving services from a company due to bad experience on social networks. Therefore, it is necessary for a social network manager to be able to answer questions and comments from the audience at any time.
COMPATIBILITY 
 The performance of social networks is changing so rapidly that compatibility is a necessary skill to manage them. To succeed in this job, it is not enough just to publish content on web pages, but you must be able to try new features and change the course of your work based on trends, experiments and continuous analysis.
You should be able to try different page management methods using the available data and performing various tests such as a / b testing. Adaptation in this job helps you to know which types of trends can benefit your brand and lead to the optimization of your performance.
KNOWLEDGE ABOUT SOCIAL MEDIA
It is clear that a social media manager must have the necessary skills and information about social media. Although this can be learned over time through research and experimentation, if you want to work for a large company, you need several years of experience. The knowledge you need includes the following:
Knowing what kind of content works best in what context.
Understand how to optimize content based on platform
Ability to attract the audience through social posts
CUSTOMER ORIENTATION
Client-oriented strategy is an integral part of the skills needed to be a social network manager. Not only do you need to hear and understand the concerns, wishes, and even compliments of current customers, but you also need to pay attention to what your audience will say in the future.
In fact, as a social media manager, you are the biggest champion of your brand. Because customer perception creates the conditions for you to have a positive impact on the hearts and minds of your audience.
While disciplines related to social media careers have not yet been fully developed, many courses and programs have been developed in this area. A course with business management content often includes information needed for internet marketing or training courses on social media. Also, getting a bachelor's degree in marketing, public relations, journalism, computer science or similar fields, along with work experience in social and digital media, is a good way to become a social network manager.
In addition, you can obtain IT and computer certification by taking valid online courses. Social media analytics, networking strategies, and marketing techniques are some of the common themes in Indore.
Although employers with social media credentials prefer journalism or marketing, in addition to educational background, writing, communication and computer skills and knowledge of marketing techniques are also important in these areas.
In general, what matters most is your interest in the profession, working with social networking platforms, and your desire to learn new things on a daily basis.
If you are a social media manager, or if you want to enter this profession, you should know that this job, especially in Iran, can be very challenging. The challenges you face include the following:
SOCIAL NETWORK FILTERING
According to the ILNA news agency, secretary of the Internet Business Association, has considered the effect of social media filtering on Internet businesses to be quite effective. Referring to the role of the Internet and social networks in entrepreneurship and monetization in Iran, he says that "filtering social networks has definitely caused serious damage to internet vendors, social network managers and other related jobs in social networks and has caused their indecision.".
Many social media executives have lost their jobs due to the filtering of platforms such as YouTube and Telegram or are facing many difficulties to continue working. Also, the possibility of filtering other social networks such as Instagram has caused concern among many managers.
SLOW INTERNET SPEED
Internet speed in Iran has always been weak and now with the increase of users, this issue is seen more. Slowing down the internet definitely affects the activity of social media managers, because the higher the internet speed, the faster they can share content and be responsive to customers.
TIME MANAGEMENT
Time is a key factor in the successful management of social media. You need more than luck to succeed in affiliate business and you need more than luck to succeed in affiliate business. In fact, you should be on social media as much as possible. This can be very challenging when it comes to home management.
The salary of a social network manager depends on various factors such as location, the department in which he works, the type of activity of the company or brand in which he works (for example, a representative or internal company), the level of experience and success in social traffic through from media advertising activities Is different.
In general, there are two contract models for this job, in the first model, the salary is paid monthly, starting from the rate of 600 thousand tomans. But in the second model, wages are calculated on a daily basis. Also keep in mind that as you gain more experience and move to higher positions, your salary will increase. 
last word
Given the rapidly evolving nature of social media, it is difficult to predict what the role of social media manager will be in the future. In general, having a thorough understanding of the marketing strategies of these networks can help you improve your management. If you have any questions or criticisms about social media management, be sure to write to us so that the secret digital marketing agency can answer you.

限會員,要發表迴響,請先登入