2026. 美國軍事專家推演模擬中美在台海開戰? What-If DC War Game US-China War Over Taiwan.
.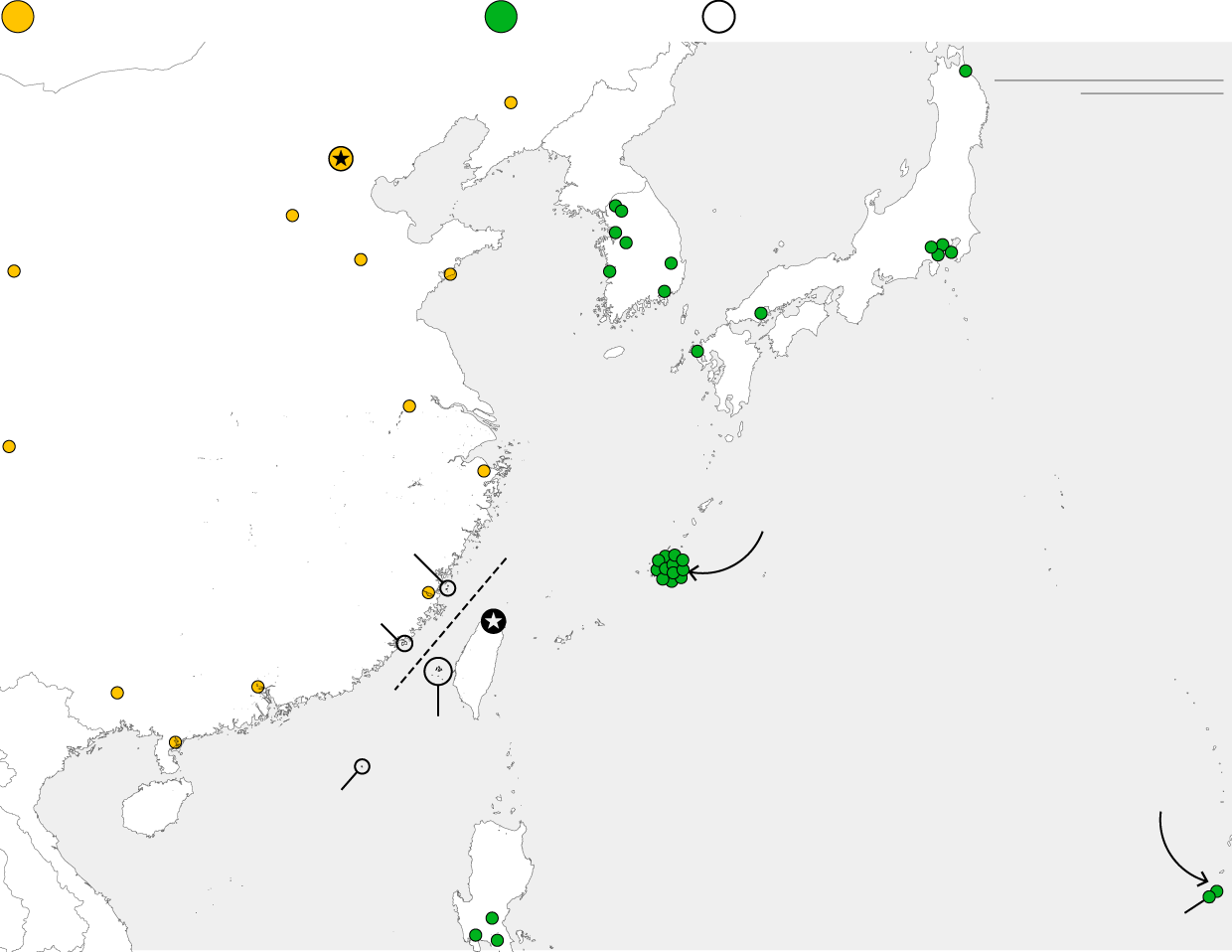 .
.USA vs CHINA war game at 2026 for Taiwan? 
.
..
.
China: War games a deliberate signal to Taiwan leaders and their foreign backers.
.Recent Chinese war games near Taiwan were a deliberate signal to the leaders of the island and its foreign backers that Beijing intends to make good on its vow to defend what it considers Chinese sovereignty, a government spokesperson said Wednesday. Ma Xiaoguang of the Chinese Cabinets Taiwan Affairs Office said the exercises were a "necessary measure" because Taiwans leaders had been engaging in activities aimed pushing the islands formal independence from China.
What-If DC War Game Maps Huge Toll of a Future US-China War Over Taiwan.
A think-tank exercise with former Pentagon officials foresees grim results.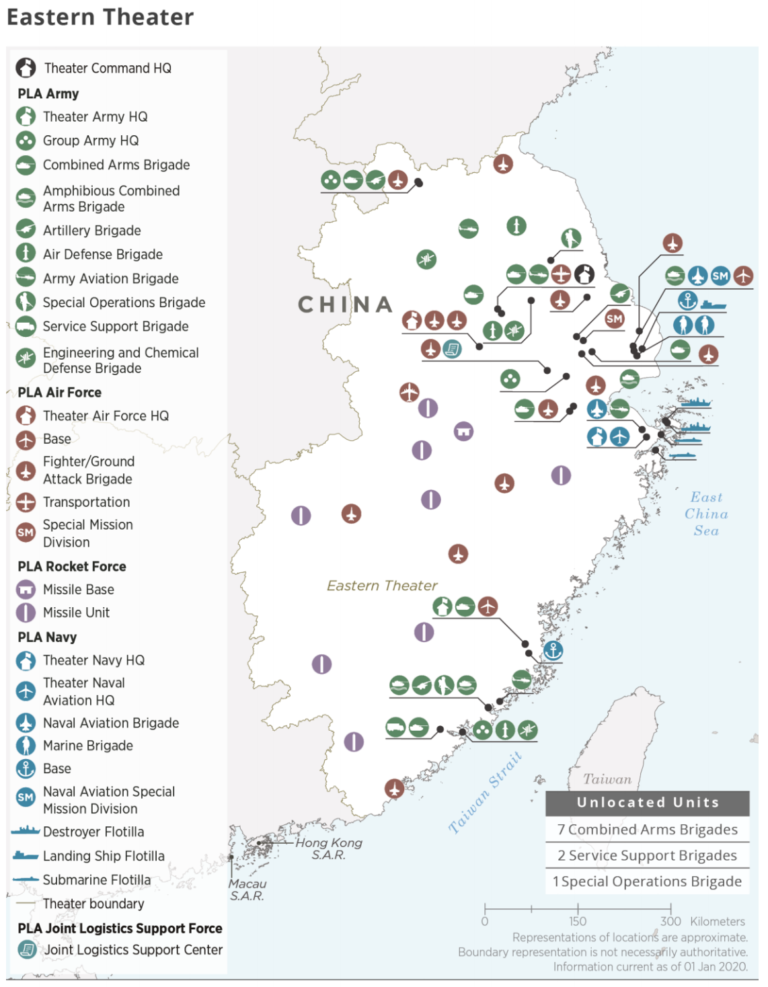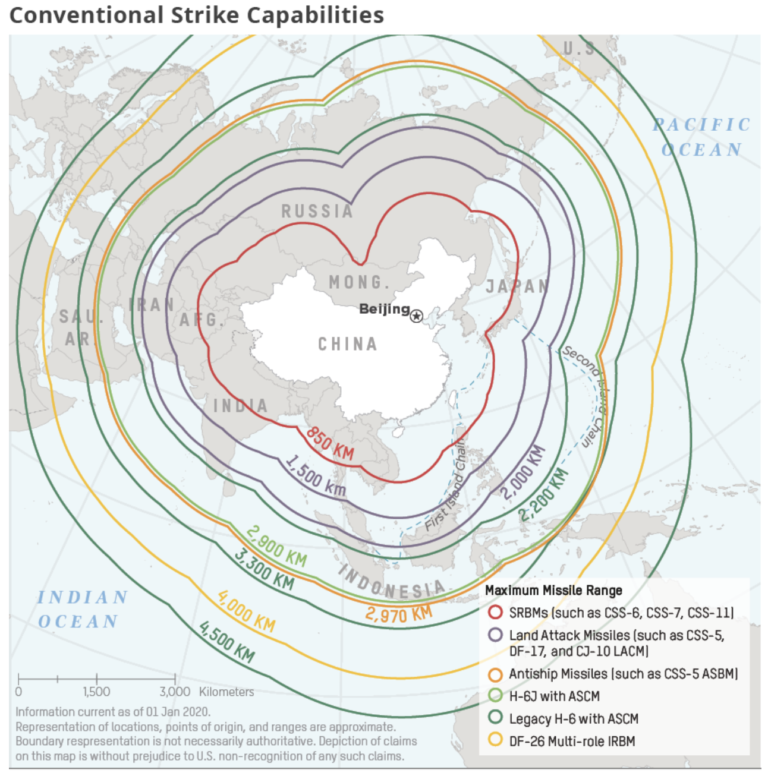 .
.RED STAR OVER THE PACIFIC.
紅星照耀太平洋描寫的結局,可能提前於2026年實現,美國海軍慘敗於太平洋,被中國海軍擊敗慘不忍睹.
.
When will China invade Taiwan? Will it succeed?
非官方的美國軍事推演假設中國2026年攻打台灣,美國軍方做出回應。
儘管是站在美國角度推演,他們發現即便美國和台灣獲勝,也會付出巨大代價。
「結果顯示在大多數(但非全部)情景下,台灣可以擊退大陸攻台」美國戰略和國際問題研究中心(CSIS)高級顧問Mark Cancian稱。「但是台灣的基礎設施與經濟以及駐太平洋的美軍將付出非常高的代價。」.
戰爭起因假定為 2026 年,中國為了統一台灣發動全面海空兩棲登陸作戰,而美國政府決定全面軍事介入,並協調日本根據安保條約提供基地和後勤支援,但日本因本土未遭受直接攻擊而未參與直接軍事行動。為了增加推演結果的參考性,各參戰方的軍事資產和武器以 2026 年前確定服役,或至少已經進行過多次實地測試的武器裝備為主。在已進行的 22 場推演中,共有 18 場成功阻止解放軍侵台,不過美日艦隊都會遭受嚴重損失,並有數百架戰機在地面就被集火摧毀,但盟軍海空兵力仍能對解放軍兩棲和水面作戰艦隊反擊,擊沉約 150 艘艦艇。
CSIS 研究員肯西恩(Mark Cancian)指出,由於美國海空軍無法像以往進行先發制人攻擊戰術,因此在未集結推進勢必會遭受慘重損失。.
這些推演活動將持續到9月。美國的退役將領和海軍軍官以及前五角大樓官員如同棋手一般,與CSIS智庫的分析師伏案推演,推演模擬結果將於202212月公佈。
20220804-20220810.中國封鎖台灣四周圍,導致於台灣與國際間的經濟損失,顯示出中國圍而不攻打的戰略成功.日後形成常態性質的軍事演習封鎖台灣,就是真正的以武逼統,台灣當局別無選擇,只有簽署兩岸和平協議,接受中國的和平統一及一國兩制的中國. 
.
.美國企圖以電腦兵棋推演2026.年海峽兩岸爆發戰爭美軍介入但是結局並不樂觀對於美國而言損失慘重..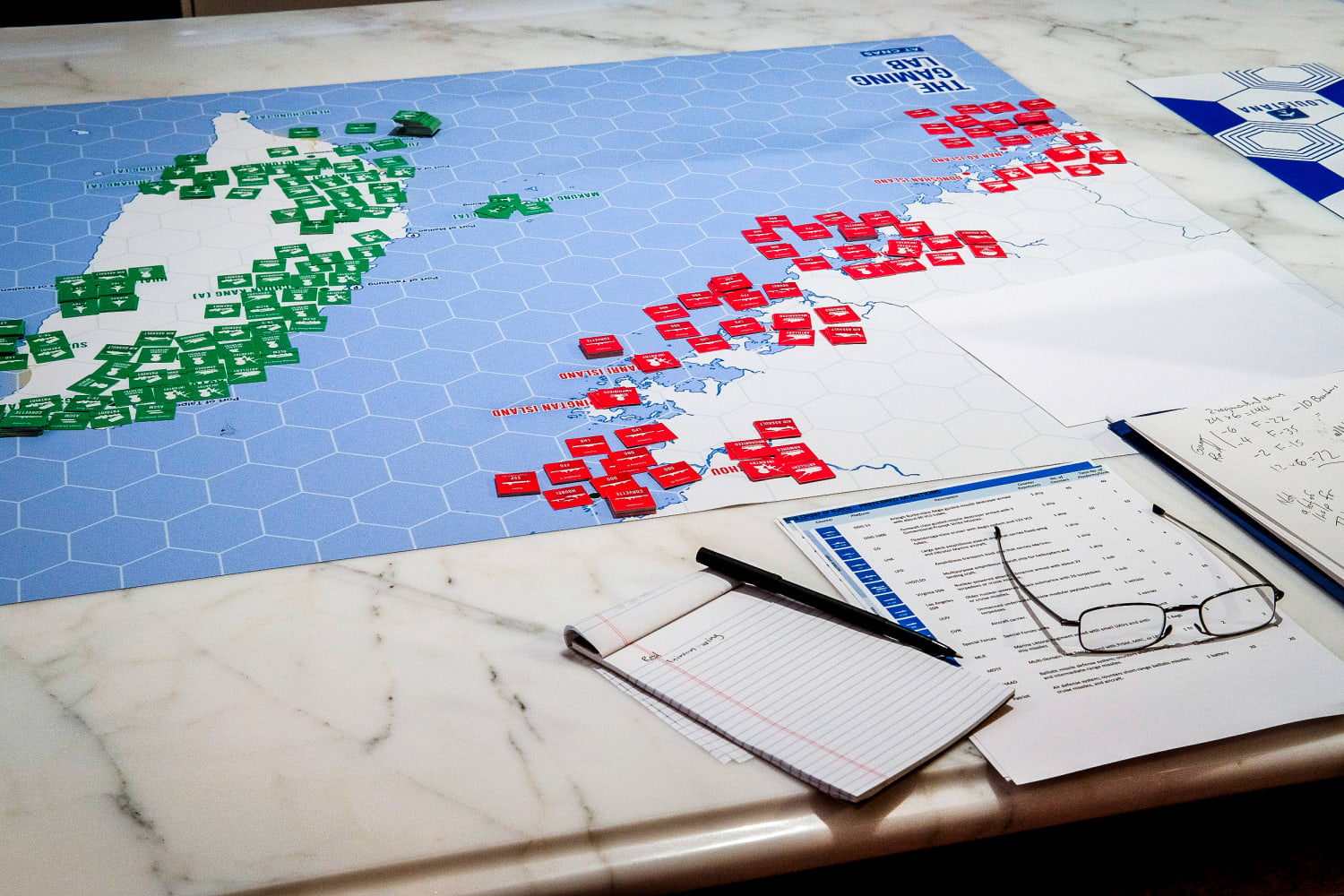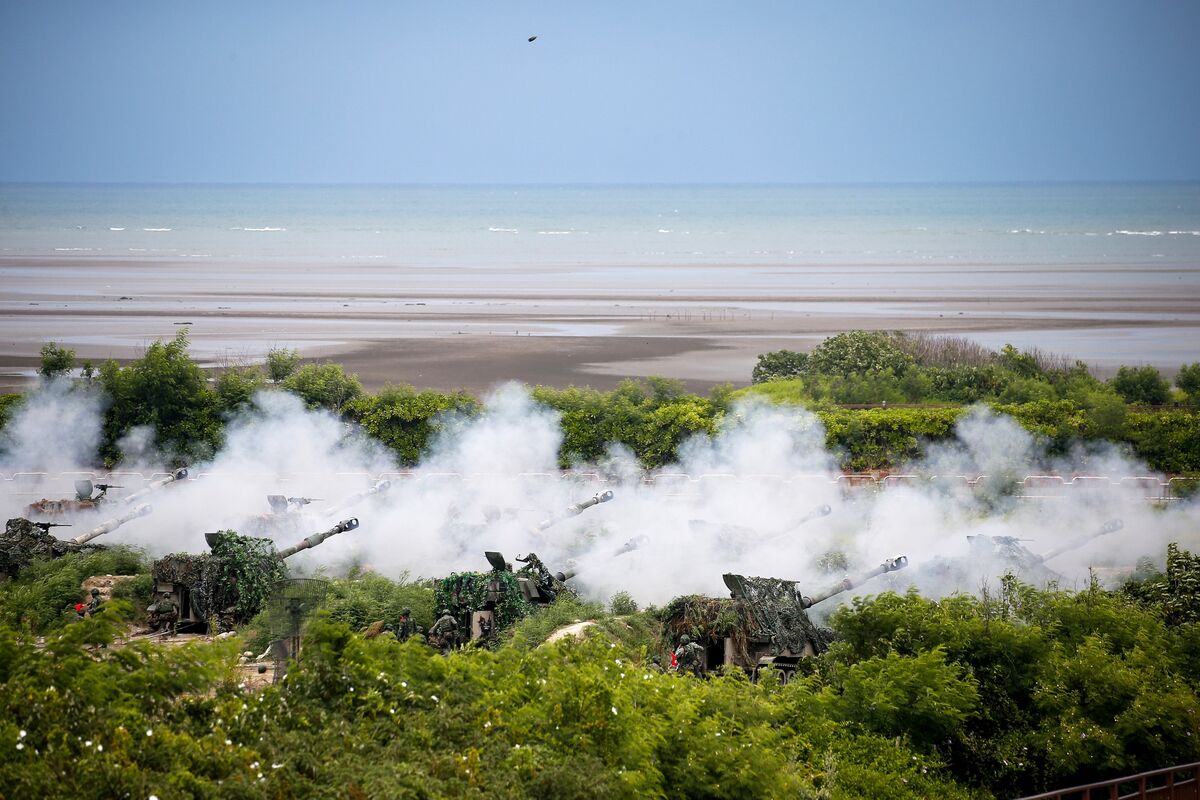 .As China waged extensive military exercises off of Taiwan last week, a group of American defense experts in Washington was focused on their own simulation of an eventual — but for now entirely hypothetical — US-China war over the island.
The unofficial what-if game is being conducted on the fifth floor of an office building not far from the White House, and it posits a US military response to a Chinese invasion in 2026. Even though the participants bring an American perspective, they are finding that a US-Taiwan victory, if there is one, could come at a huge cost.
"The results are showing that under most — though not all — scenarios, Taiwan can repel an invasion," said Mark Cancian, a senior adviser at the Center for Strategic and International Studies, where the war games are being held. "However, the cost will be very high to the Taiwanese infrastructure and economy and to US forces in the Pacific."
In sessions that will run through September, retired US generals and Navy officers and former Pentagon officials hunch like chess players over tabletops along with analysts from the CSIS think tank. They move forces depicted as blue and red boxes and small wooden squares over maps of the Western Pacific and Taiwan. The results will be released to the public in December.
 
The not-necessarily-so assumption used in most of the scenarios: China invades Taiwan to force unification with the self-governed island, and the US decides to intervene heavily with its military. Also assumed but far from certain: Japan grants expanded rights to use US bases located on its territory, while stopping short of intervening directly unless Japanese land is attacked. Nuclear weapons aren't used in the scenarios, and the weapons available are based on capabilities the nations have demonstrated or have concrete plans to deploy by 2026. 
China's test-firing of missiles in recent days in response to US House Speaker Nancy Pelosi's visit to Taiwan underscored a Chinese capability that's already assumed in the gameplay.
In 18 of the 22 rounds of the game played to this point, Chinese missiles sink a large part of the US and Japanese surface fleet and destroy "hundreds of aircraft on the ground," according to Cancian, a former White House defense budget analyst and retired US Marine. "However, allied air and naval counterattacks hammer the exposed Chinese amphibious and surface fleet, eventually sinking about 150 ships."
 
.
Chinese and U.S. Forces Could Clash Over Taiwan
Taiwan's outlying islands would likely be among the first targets of an invasion
resources: The Chinese Invasion Threat, Natural Earth, International Institute for Strategic Studies; U.S. Department of Defense, GlobalSecurity.org.
"The reason for the high US losses is that the United States cannot conduct a systematic campaign to take down Chinese defenses before moving in close," he said. "The United States must send forces to attack the Chinese fleet, especially the amphibious ships, before establishing air or maritime superiority," he said. "To get a sense of the scale of the losses, in our last game iteration, the United States lost over 900 fighter/attack aircraft in a four-week conflict. That's about half the Navy and Air Force inventory.".0
 .
The Chinese missile force "is devastating while the inventory lasts" so US submarines and bombers with long-range missiles "are particularly important," he said. "For the Taiwanese, anti-ship missiles are important, surface ships and aircraft less so." Surface ships "have a hard time surviving as long as the Chinese have long-range missiles available," Cancian said.
The game players haven't made any estimates so far on the number of lives that would be lost or the sweeping economic impact of such a conflict between the US and China, the world's two largest economies.
Taiwan's defense capabilities are an especially important part of the calculations, because its forces would be responsible for blunting and containing Chinese landings from the south — a scenario played out in the simulation.
"The success or failure of the ground war depends entirely on the Taiwanese forces," Cancian said. "In all game iterations so far, the Chinese could establish a beachhead but in most circumstances cannot expand it. The attrition of their amphibious fleet limits the forces they can deploy and sustain. In a few instances, the Chinese were able to hold part of the island but not conquer the entire island."
Taiwan's Best Landing Sites Are Well Defended.
"Taiwan is a large island, and its army is not small," said 
Eric Heginbotham
, a principal research scientist at the MIT Center for International Studies in Cambridge, Massachusetts, who's participating in the war game. "But from a qualitative standpoint, Taiwan's army is not at all what it should be, and we have built that into the game. The transition to an all-volunteer military has been botched, and although conscripts remain an important component, the conscripts serve only four months.".
Perhaps the most disconcerting takeaway for Washington: The high-cost sequences conducted so far aren't even the most challenging hypotheticals.
"We have not run the most pessimistic scenarios, where China might conquer the entire island," Cancian said.
He said the four remaining rounds of the war games will "investigate some alternative scenarios — like the US delaying its support for Taiwan, strict Japanese neutrality and a pessimistic scenario that gives China a variety of advantages."
David Ochmanek, a Rand Corp. senior defense researcher and former US deputy assistant defense secretary, said a CSIS exercise he participated in was "well-run and credibly adjudicated." Ochmanek, who has participated in dozens of China-US war games, both unclassified and classified, said, "It basically replicated the results of other games that I've played that were set in the same time epoch and used the same basic scenario." 
The keys to "any good game are to get knowledgeable players who can faithfully and creatively simulate what their nation's forces would do and to get adjudicators — umpires, essentially — who can credibly assess the outcomes of engagements and battles," Ochmanek said.

War games are played frequently by governments and outside organizations worldwide. But instructions to the participants in the CSIS project say that although the Pentagon "has conducted many such war games, they are all classified. As a result, information in the public domain is extremely limited. This project will fill that gap in public knowledge and thereby encourage discussion about US force structure and policies."
Anti-ship missiles — US-made Harpoons and Taiwanese-made weapons that the island democracy fields — would play a large role in the early destruction of the Chinese amphibious landing force, while Taiwan's Navy and half of its air force would be destroyed in the first days of the conflict, according to the modeling so far.
.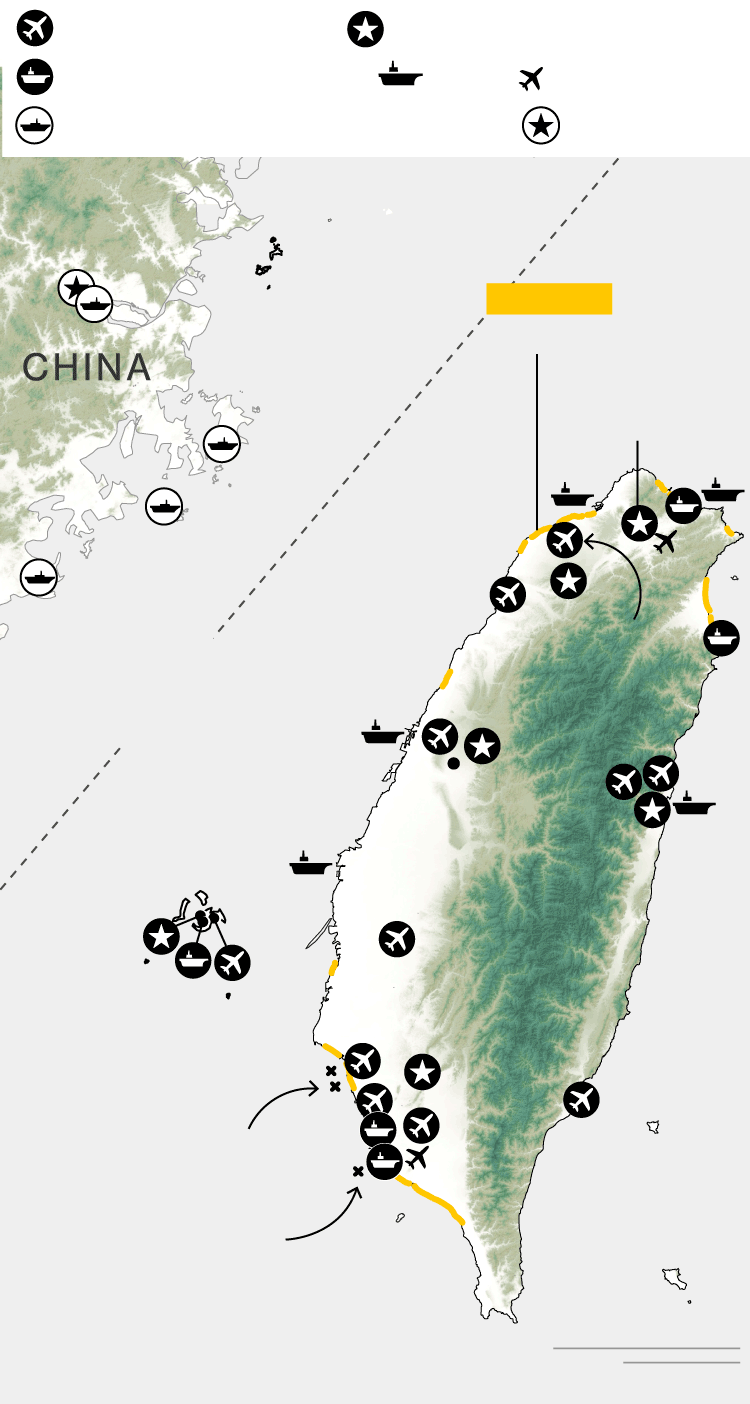 .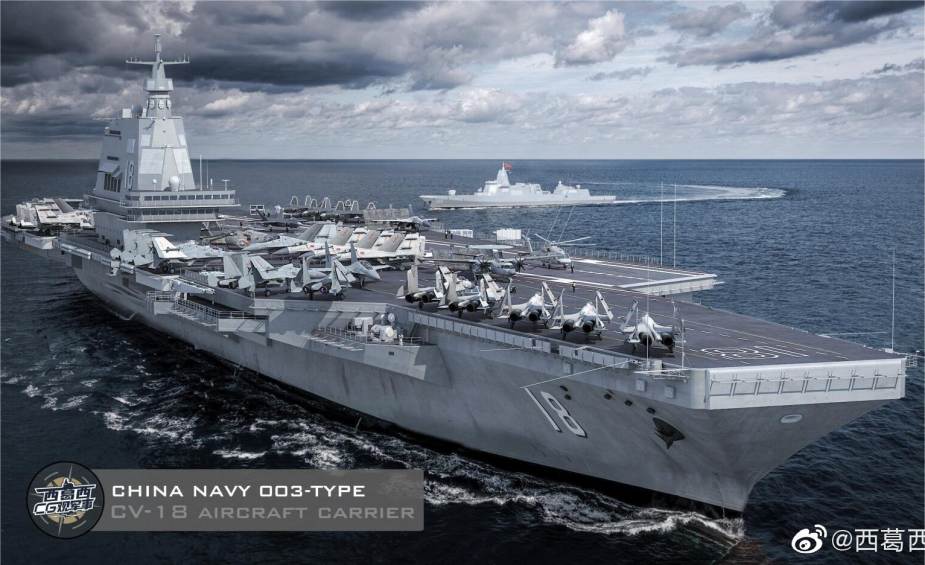 .
迴響(1) :
1樓. red square 123

2022/08/10 15:33

.美國華府的「戰略與國際研究中心」(CSIS),針對共軍入侵台灣前3週戰事進行全長7小時的兵棋推演,最終結果顯示,如美國能投入大量援助,美台雙方能聯手阻擋和擊退共軍入侵,但台灣的基礎建設與經濟幾乎全毀,美軍也將付出損失近千架戰機與兩艘航空母艦的慘痛代價。

參與本次兵推的美軍將領,在結果出爐後,多半認為2027年將是解放軍入侵台灣的關鍵時刻,他們相信北京會利用解放軍創建100周年的時機,進行武力統一的計畫。這組由麻省理工學院與美國海軍學院設計的兵推,前提假想美國注意力被歐洲分散,台灣受制於資訊戰威脅造成反應能力下降,讓中國官方認定有機可趁,展開對台攻略行動。場景設定包含三項重要指標:北京下決心入侵台灣,美國同意協防台灣和屏除使用核武?

red square 123 於 2022/08/10 15:36回覆