My Promise To You...
I feel like I am the happiest girl right now!!
It all started as a dream on Thursday night, Friday morning around 2:00am. I had dreamt of that me and my boyfriend Frank were in a hotel at Las Vegas. We were sitting in bed and watching TV, minutes before I turned 26 years old. As soon as the clock struck 12:00 midnight, Frank hands me a birthday bag and he says to me, "Happy Birthday Honey, I love you". I opened the many gifts that he has given me, but there was one that he told me to open last. I kept insisting that I wanted to open it first; I had opened the other ones first. He had given me a t-shirt and several candles. Frank then gave me the very last present. It was wrapped in tissue paper and it looked like a cup because there was a handle. When I opened it, I saw coins and beads inside the coin jar. I then poured everything out on the bed and then I saw this ring that just caught my eye. I said to myself, "Is this an engagement ring or promise ring, whatever ring it is, I will accept it because I am really falling in love with this guy".
So that was the dream...
Frank and I headed to Las Vegas on Friday evening to celebrate my birthday at Las Vegas. We got to our hotel at about 11:45pm. And get this...everything that I dreamt about the night before, IT ALL CAME TRUE!!
How could that possibly be?
I was given a promise ring by my boyfriend Frank. He had promised me so many things; I only remember bits and pieces of it. We have been together for almost 10 months but it feels like forever!!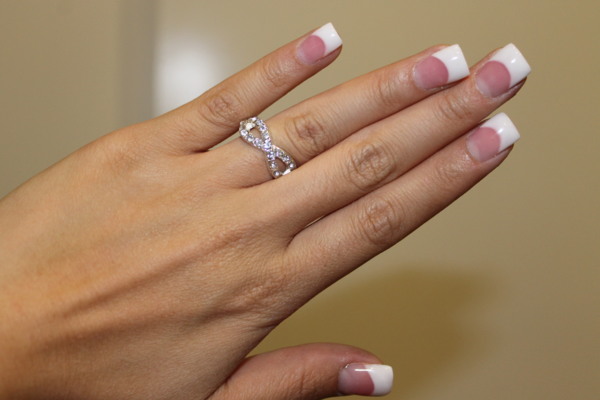 (The symbol is an infinity sign)
迴響(4) :
1樓.

2012/09/13 13:52

合意佳婿

看來你們是先定婚了! 要請客呢

恭喜恭喜。

---

Of course, you will DEFINITELY be invited!! I can't wait for you to be a part in this very special day!!

<3 <3

~*Annie Oakley*~ 於 2012/09/13 13:57回覆