賀中國神州13號太空船及首位女太空人登陸太空站成功.China's13 space station first female astronaut.
.
..中國神舟13號載人太空船202110160023分發射升空成功,
中國女太空人王亞平,將首次進駐中國太空站,也將成為中國首位實施出太空艙執行任務活動的女太空人.
2013年王亞平曾在神舟10號任務期間開展了精彩的,「太空授課」,全中國有6000萬中,小學生接受衛星實況傳播授課.
賀中國首位女太空人,登陸太空站進行科技工作任務,王亞平太空人,曾經在神州10號太空船,環繞地球及月球軌道進行科學物理實驗,證明數種科學問題,並經由衛星直播方式傳回中國,讓所有小學生,中學生,進行太空遠距離教學課程,台灣省的小學生,中學生當天同時接受機會教育,創下國際新記錄,中國人已經站起來,並且強勢崛起,此番神州13號太空船,順利升空登陸中國太空站,進行科學任務,預祝他們順利成功,但是他們要在太空站內歡度春節過新年,又創下記錄太棒喇.
.
China To Launch Shenzhou 13 To Tiangong Space Station On Saturday - Space. Program.BEIJING (UrduPoint News / Sputnik - 14th October, 2021) The launch of the Shenzhou 13 manned spacecraft, which will bring three Chinese astronauts to the Tiangong space station, is scheduled for Saturday, the China Manned Space Program announced.
The Chang Zheng 2F launch vehicle will take off from the Jiuquan spaceport in northwestern China at 00:23 local time (18:23 GMT on Friday).
王亞平是中國女人的驕傲與光榮,她是首位進入太空站執行任務的女人,她是全體海內外中國人的代表值得表揚.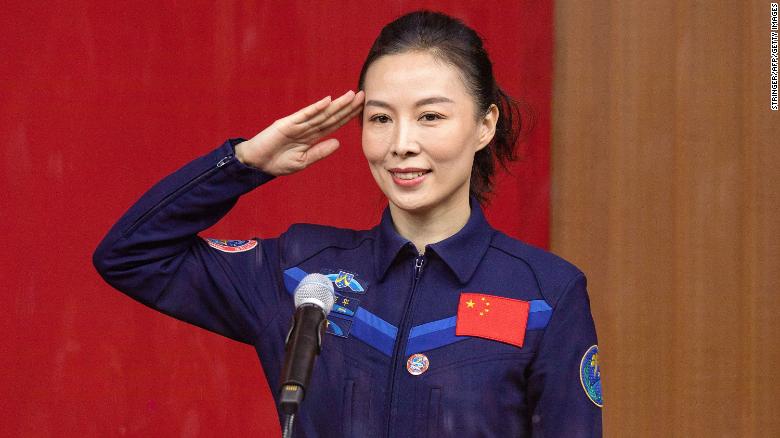 Wang is Chinas second woman in space, after fellow astronaut Liu Yang. In 2012, Liu made history by joining a three-person crew on the Shenzhou-9 spacecraft -- a milestone celebrated by women across China.
Lius space mission came 49 years to the day after the Soviet Union put Valentina Tereshkova into space -- making her the worlds first female astronaut in outer space.
Female astronauts have come a long way since Tereshkova made that first trip. According to NASA, as of March this year, 65 women have flown in space, including cosmonauts, astronauts, payload specialists and space station participants.
In 1983, astronaut and physicist Sally Ride became the first American women in space -- but back then, the male-dominated space industry appeared to be pretty clueless about womens needs.
As Ride prepared for her trip on the Space Shuttle STS-7, NASA engineers famously asked her how many tampons she might need for a week in orbit.
"Is 100 the right number?" Ride recalled them asking, according to the transcript of a 2012 NASA oral history project.
In a terse reply, she suggested they halve that estimate.
Varsha Jain, gynecologist and researcher at Kings College London, previously told CNN that while most systems in the human body are heavily affected during spaceflight, the female menstrual cycle doesnt seem to change at all.
Her research found that most female astronauts opt to use contraceptives and put their periods on hold, both in preparation for and during spaceflight.
For missions that last a few weeks, astronauts are able to use oral contraceptives to time their cycles accordingly. But Jain said no research has been done on long-term use of contraceptives in space, for missions that last for months or even years.
CHINA SPACE ENG SO GREAT.
China takes action for longest manned space mission..
Chinas new space station gets its first female astronaut.
The first woman assigned to work on Chinas new space station will be aboard when the Shenzhou-13 spacecraft blasts off early Saturday local time, in whats set to be a landmark moment for female astronauts and the countrys rapidly expanding space program.
Wang Yaping, 41, is part of a three-member team heading for the Tiangong -- or Heavenly Palace -- space station, where she is expected to become the first Chinese woman to conduct a spacewalk.
Chinas aim to complete the station and have it fully crewed by December 2022 is an ambitious target but it appears to be on course. Last month, three other Chinese astronauts successfully completed a three-month stay on board, during which they worked on the stations core module and conducted two spacewalks to install equipment.
This time, Wangs team will stay for 183 days -- the longest stint in space by Chinese astronauts. She will be accompanied by mission commander Zhai Zhigang, 55, and Ye Guangfu, 41.
Their spacecraft is scheduled to take off from the Gobi Desert in northwest China at 12:23 a.m. Beijing time on Saturday (12:23 p.m. ET Friday), the China Manned Space Program said Thursday.
Preparations for their stay have been long in the making. Last month, a cargo vessel delivered 6 metric tons of food, water, oxygen bottles, spacesuits and other necessities to the station.
It will be Wangs second space mission. A major in the Chinese Peoples Liberation Army Air Force and a transport plane pilot, she was recruited as an aspiring astronaut in 2010.
In 2013, she spent 15 days in orbit with the Shenzhou-10 mission. From a trial space station module, she gave a science lecture to 60 million students across China -- showing them surface tension of liquids in space, conducting kung fu moves and answering questions.
"When I looked out of the window for the first time, I realized the true meaning of the power of life... that kind of beauty was just beyond comprehension," she said.
According to Wang, a manned space program without female astronauts would be incomplete.
"It is like a womans role in the family. Women have responsibilities. We also make serious missions more lively and pleasant," she said.
And female crew members bring a practical benefit too, Wang added. "We women astronauts weigh less (than men, and) thats more economical to the mission.".............................
.
.
.
..
.