賀中俄西伯利亞天然氣管道竣工雙方領導人視訊會議宣佈開通供氣及接氣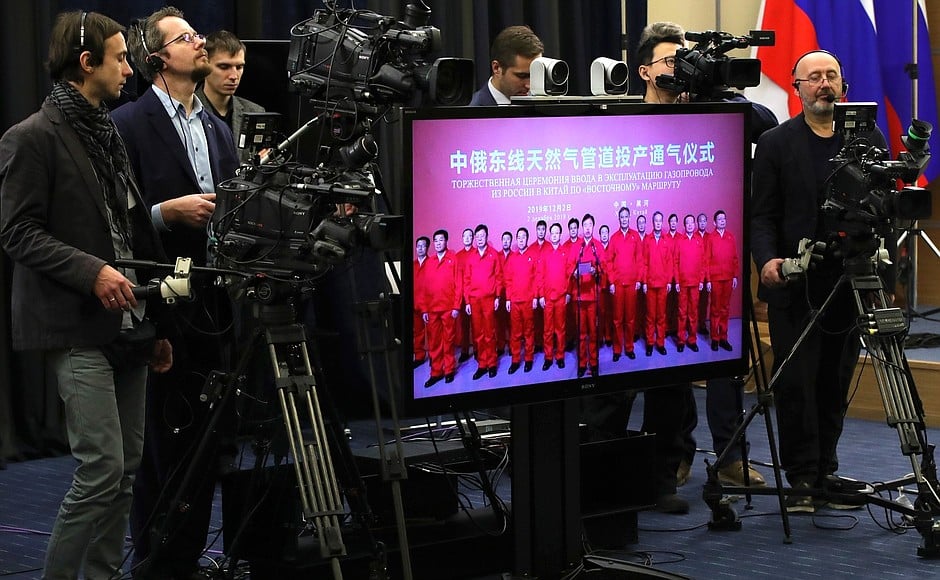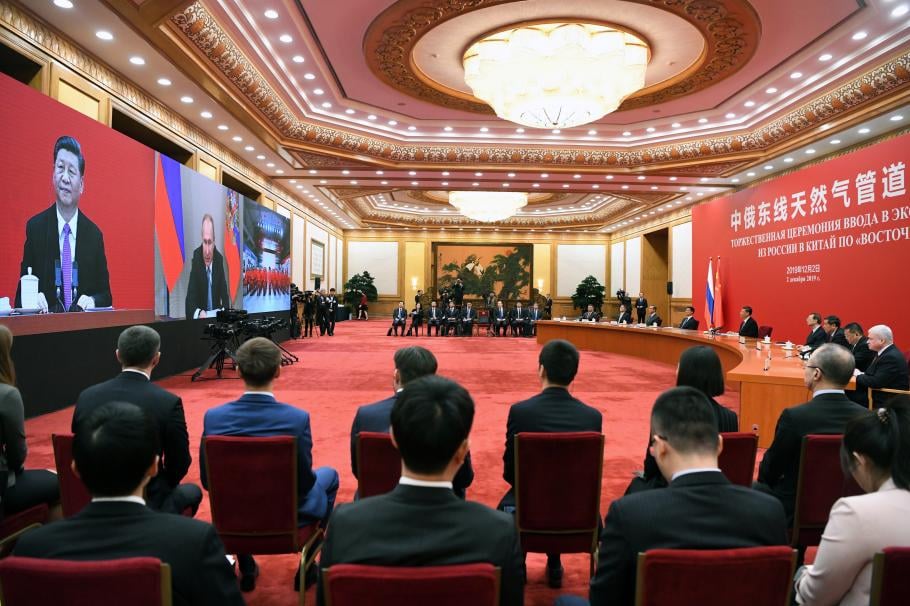 During the launch of the Power of Siberia gas pipeline. The President of the Russian Federation Vladimir Putin.
20191202.俄羅斯普京大帝與中國領導人習近平,雙方利用衛星直播視訊會議,共同啟用經由西伯利亞天然氣管線工程竣工,進行開通儀式對話,由於北京與莫斯科時差有8小時,在中國北京時間上午10點整,莫斯科確是凌晨12時5分,注意普京右手配戴的腕錶時間20191202.
Five ways in which Russia and China will profit from soon to-be-opened Power of Siberia pipeline.
Following the signing of the major 30-year gas contract worth of $400 billion between the two countries, Russia started building a pipeline that will not only connect its gas fields with refineries, but also allow for tAfter over five years of construction in the at times difficult landscape of Siberia, the pipeline, named after the resource-rich area of Russia, is finally about to be officially opened by the heads of the two countries that are set to primarily profit from its completion – Russian President Vladimir Putin and his Chinese counterpart Xi Jinpinghe supply of billions of cubic metres of gas to cover the energy needs of its south-eastern neighbour, 
俄羅斯通往中國天然氣管線工程,幾經波則,終於歷經5年時間動工興建,經由廣大西伯利亞原野,取道蒙古共和國進入中國天然氣接受站及儲存巢,其中蒙古共和國百般阻撓,不同意中俄天然氣管線興建工程,顯然是美國及日本幕後策劃搞陰謀,後來經過中國與蒙古共和國談判多次,終於達成協議,那就是支付過路費,此山為我開,此樹為我栽,要想過此路,丟下買路錢,傳聞當初蒙古共和國獅子大開口,每立方公尺的天然氣,經過蒙古共和國,抽取10美元過關費用,後來幾經協商,終於達成每立方公尺的天然氣過路費為1美元現金,每月30號結算,直接由中國銀行,匯給蒙古共和國的國家銀行專門戶頭內,根據估算蒙古共和國收取過路費,每月將近1000餘萬美元左右,對於蒙古共和國的外匯短缺不無小補,但是天不從人員願,蒙古共和國受到美國及日本的支持,暗中搞"草雄原鷹"破壞計劃,俄羅斯潛伏於蒙古共和國情報員,得知策反前蘇聯駐在蒙古人民共和國的官員及相關人員,他們得到正確的情報資料,提供俄羅斯及中國,由此觀之美國極為險惡,中國將計就計允許天然氣管線經過蒙古抽取過路費.事實上美國尚未知曉.
事實上俄羅斯與中國早已獲得情報,秘密與中國工程師,探勘新的天然氣管線,也就是今天20191202.竣工通氣的天然氣管線,至於蒙古人民共和國受到美國,日本利用,不僅1毛錢沒有從中國得到,反而要以2017"草雄原鷹",為藉口,邀請美國,日本,烏克蘭,印度等國參加軍事演習,其結果浪費將近3000萬美元,而且污染大片草原,真是得不償失.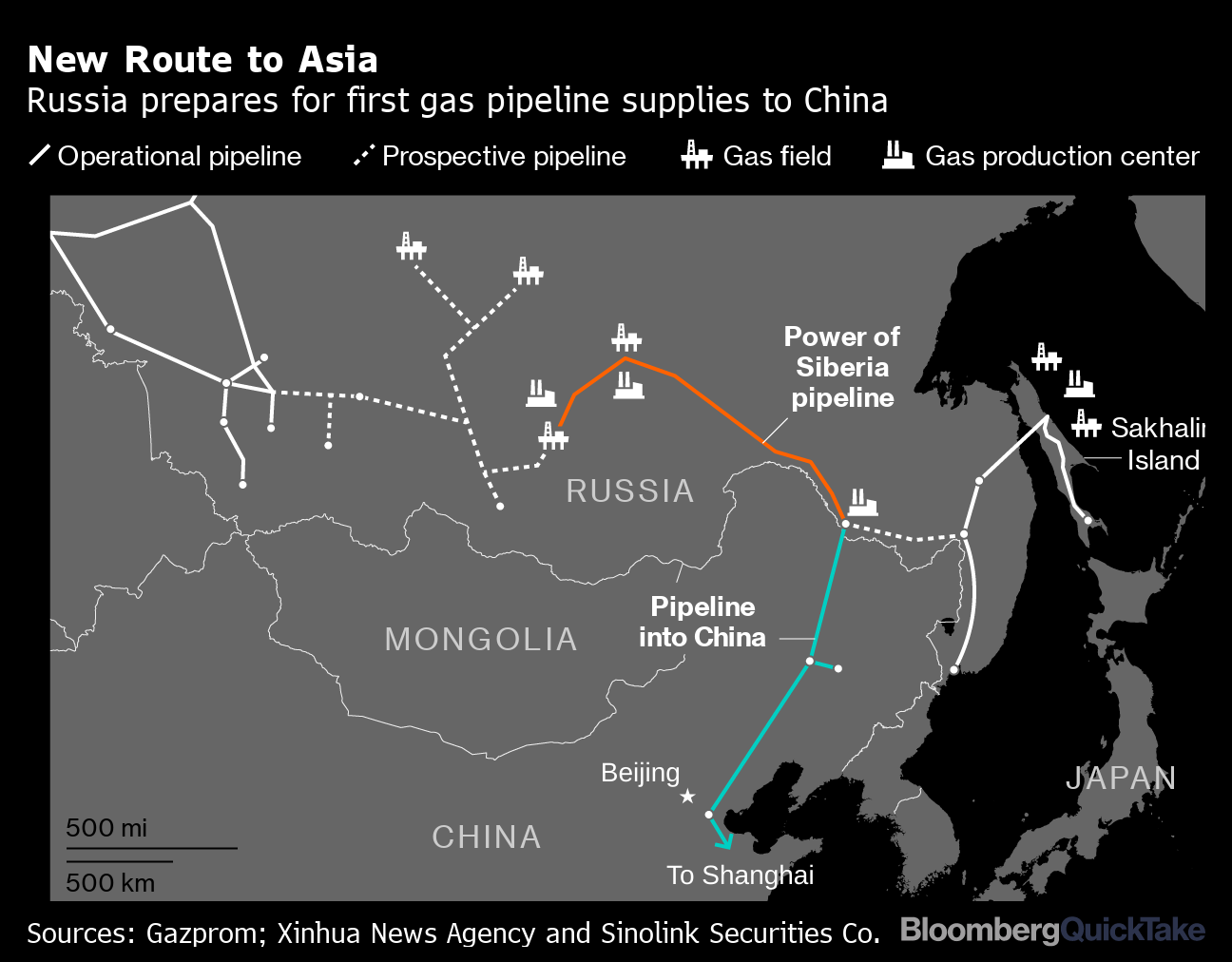 ..
2019中國與俄羅斯西伯利亞天然氣管線竣工圖.What is the Power of Siberia?
$400 billion
deal to supply 38 billion cubic meters of gas annually for 30 years to
China National Petroleum Corp. It's the Russian company's
biggest ever contract.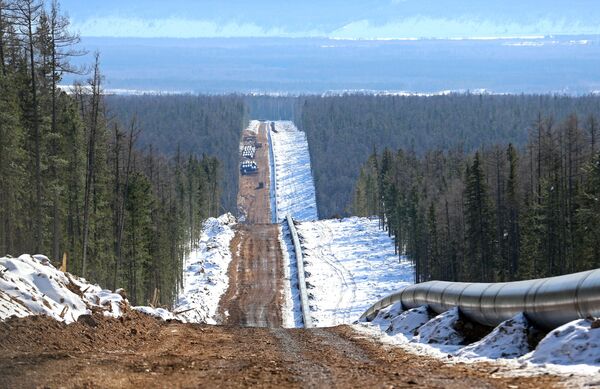 .
Across China's coal-burning northeastern provinces, pipelines are being laid, contracts signed and coal-fired boilers ripped out ahead of the arrival next week of the country's first piped natural gas from Russia.
The 'Power of Siberia' pipeline, due to open on Dec. 2, will pipe natural gas around 3,000 km (1,865 miles) from Russia's Siberian fields to the fading industrial region, which has lagged the push to gas in China's south and east.
The pipeline - which will deliver gas under a 30-year, $400 billion deal signed in 2014 - has the potential to transform northeast China's energy landscape and even slow the country's surging imports of liquefied natural gas (LNG).
中國花錢消災,卻直接獲得俄羅斯天然氣帶動的經濟效益,每月估計高達1億美元左右,俄羅斯所供應天然氣成本價,每立方公尺約為500美元左右,由於中國是俄羅斯天然氣採購的頭號大客戶,傳聞已每立方公尺490美元成交,但是興建將近8000公里左右的天然氣管線工程及附帶設備,機具接收站,儲存巢等工程費用,皆由中國支出,由於在俄羅斯境內中國遵守合約條款,聘用70%.俄羅斯的工程師與相關人員,其餘的才是中國人,可見中國投資將近100億美元左右的中俄天然氣管線工程,終於竣工通氣使用,值得慶賀.
 Why does China want the Power of Siberia?
China is the world's biggest energy consumer and importer. Russian gas will supplement output from China's domestic fields and could be cheaper than LNG arriving in tankers. The two countries are already talking about a second link, known as
Power of Siberia 2, which would serve the industrial areas on China's east coast. China also operates the Central Asia-China Gas Pipeline, which brings gas mainly from Turkmenistan through Uzbekistan and Kazakhstan. Putin expects
"colossal" growth in China's energy needs will require more pipeline and LNG capacity, benefiting both Gazprom and
Novatek PJSC, which is developing LNG on the Yamal peninsula in the Kara Sea.
 Gazprom filled it with gas in October, and the official launch is likely to happen Dec. 2, when Putin and Chinese President Xi Jinping may appear in a joint video link at a ceremony to mark the occasion, according to Kremlin spokesman Dmitry Peskov. Gazprom
plans to startwith deliveries of 10 million cubic meters a day and reach peak capacity in 2025. Russia may eventually expand the system to the west, allowing Siberian gas to flow in either direction
A general view shows Xi Jinping speaking with Vladimir Putin via a video link, from the Great Hall of the People in Beijing, 2 Dec, 2019.
慶賀中俄天然氣管線工程竣工通氣.中國政府於20191202.在北京與俄羅斯共同舉行衛星視訊會議,行開通儀式,即時連線天然氣工廠及北京,莫斯科3方.並且公告國際新聞媒體.
Russias President Vladimir Putin with Energy Minister Alexander Novak, left, and Deputy Prime Minister Dmitry Kozak during the launch of the Power of Siberia gas pipeline.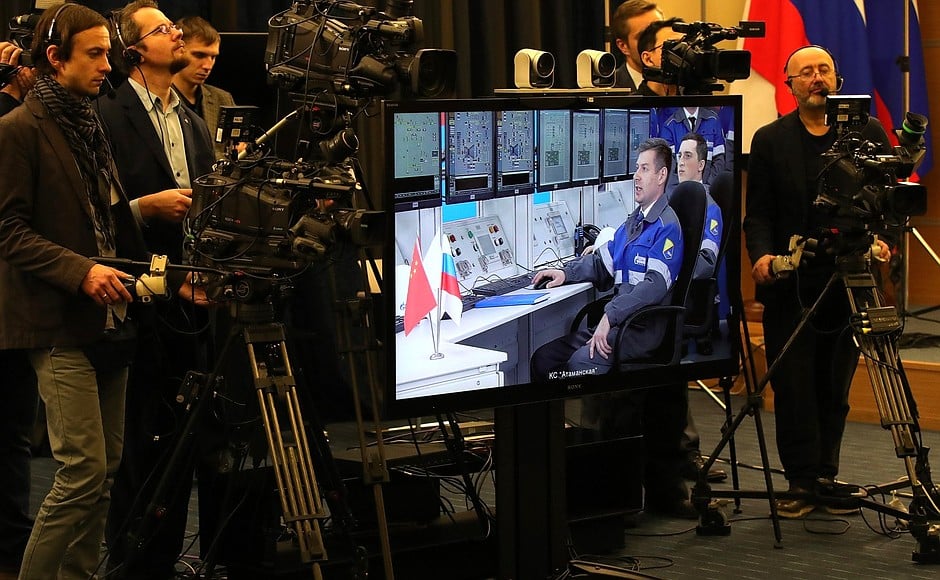 Chinas new Russian natural gas pipeline wont worry LNG, oversupply will:0A new pipeline from Russia that will eventually be capable of delivering more than a quarter of China's current level of natural gas imports sounds like the last thing embattled liquefied natural gas (LNG) producers need.
The Power of Siberia pipeline was scheduled on Monday to start delivering natural gas from Russia to China's northeast, bringing the cleaner-burning fuel some 3,000 kilometres (1,865 miles) to a region that up to now has been heavily reliant on coal.
The pipeline is due to reach its full capacity of 38 billion cubic metres (bcm) a year by 2025, which is equivalent to about 28.1 million tonnes of LNG.
China's total natural gas imports from LNG and existing pipelines from central Asia were 77.1 million tonnes in the first 10 months of 2019, meaning they should be around 93 million tonnes for the full year.
This means the new pipeline will be able to boost the current level of imports by around 30%, a substantial figure even when viewed in the light of China's supercharged natural gas demand growth in recent years