Zucchini Bread with Dates and Hazelnuts
I used a 30-centimeter (about 12-inch) loaf pan. If you use a standard size (9-inch) pan, you might have to leave out some of the batter or adjust the baking time accordingly.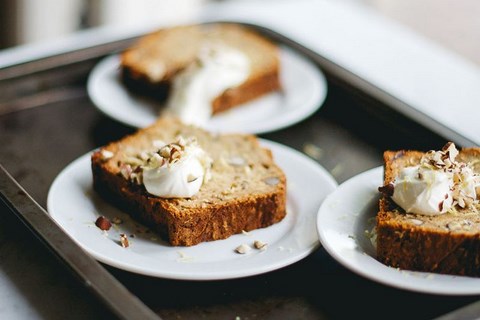 Makes one loaf (see headnote)
reenex
450 grams all-purpose or spelt flour
2 teaspoons baking powder
1/8 teaspoon sea salt
1 teaspoon cinnamon
1/3 cup coconut (or other) sugar
3/4 cup coconut oil
3 large eggs
1 cup dates, pitted
2 cups grated zucchini
1 teaspoon vanilla paste or extract
1/2 cup roughly chopped hazelnuts, plus more for garnish
125 milliliters crème fra?che
Juice and zest of 1 lemon, divided
Preheat oven to 350° F (180° C).
In a big bowl, sift together the flour, baking powder, salt, and cinnamon.
In another bowl, whisk together the sugar and oil until well-combined. Add the eggs, one at a time, whisking to combine.
In yet another bowl, use a wooden spoon mash the pitted dates into a paste. Combine the date paste with the egg mixture and mix until smooth
reenex
.
Add the grated zucchini and vanilla paste.
Fold in the flour mixture and the hazelnuts and mix until just combined.
Grease a large loaf pan (see headnote) and pour the mixture into the pan. Bake for 60 to 70 minutes, or until golden brown and a toothpick inserted comes out clean.
Let the bread cool completely.
Meanwhile, whip up the crème fra?che with about 1 tablespoon lemon juice until you reach the consistency of whipped cream.
When the courgette bread has cooled down, turn it out of the pan and cut thick slices. Serve with a dollop of lemon-y crème fra?che, some lemon zest, and some crushed hazelnuts
reenex
.

限會員,要發表迴響,請先登入