Taipei Times(我們為台灣加入WHO向AIT抗議)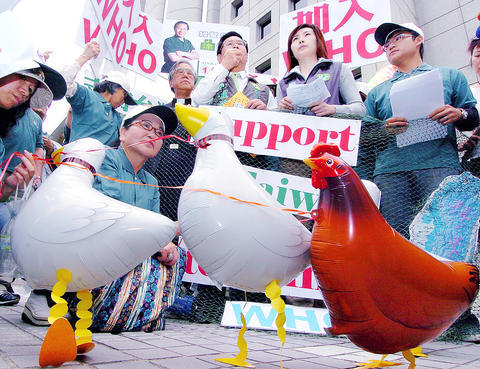 GIO unveils new ad for WHO bid
By Mo Yan-chih and Jimmy Chuang
STAFF REPORTERS
Thursday, May 03, 2007, Page 2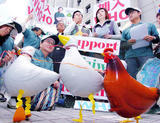 Demonstrators protest in front of the American Institute in Taiwan yesterday calling for the US to support Taiwan's bid to join the WHO so that the country can officially participate in global efforts to combat avian flu.
PHOTO: LIAO CHEN-HUEI, TAIPEI TIMES

The Government Information Office (GIO) yesterday unveiled a new advertisement to promote the nation's bid to participate in the WHO.
On the advertisement, WHO is written as "WHC," with the "C" representing an incomplete "O" to deliver the message that as Taiwan is not yet a member, the organization is not complete.
"As you can see, on the advertisement, WHO is written as `WHC' because Taiwan is not in the organization so the `O' is not complete," GIO deputy minister William Yih (易榮宗) said.
The WHO Secretariat rejected Taiwan's latest bid to participate in the organization on April 25 after President Chen Shui-bian (陳水扁) sent a letter on April 11 to WHO Director-General Margaret Chan (陳馮富珍) asking that the country be allowed to join the health body.
The World Health Assembly (WHA), the highest decision-making body of the WHO, will hold a meeting in Geneva starting on May 14.
Yih said the GIO will place the advert in the Financial Times and International Herald Tribune newspapers on May 12 and May 13, on the eve of the WHA meeting.
"We believe these two newspapers are available in most hotels where delegates attending the meetings will stay. Therefore, placing the advertisement in the newspapers will be the best way to deliver our message," he said.
Meanwhile, shouting "WHO, Taiwan Go Go Go!" next to the American Institute in Taiwan (AIT), a group of activists yesterday presented a petition to the institute and urged the US to support the country's efforts to seek full WTO membership using the name "Taiwan."
The WHO Secretariat's rejection of Taiwan's bid to join the organization under the name Taiwan ignored the health rights of the people of Taiwan and created a hole in the global health net, the group said.
"Taiwan is the only country excluded from the WHO and it is due to China's obstruction. The health rights of its 23 million citizens are neglected and its absence also damages the rights of foreign people living or traveling here," vice president of the alliance Twu Shiing-jer (涂醒哲) said.
After singing a Taiwanese folk song called "Mending the Net" (補破網) to highlight the helplessness and despair of Taiwanese at the rejection of their bid, the group sent a petition to the AIT to seek US support.
AIT press officer Lawrence Walker received the petition while urging Taiwan to focus on meaningful participation in the WHO.
Twu and the Reverend William Lo (羅榮光), secretary general of the group, protested against Walker's remarks, arguing that Taiwan should enjoy the right to apply for full WHO membership as a sovereign state.
"Meaningful participation is meaningless. China gets to decide what kind of participation is meaningful for Taiwan, and we've never had a meaningful participation in the WHO due to China's obstruction," Twu said.
Twu said the alliance would invite the Presidential Office to write letters to foreign countries to protest the WHO rejection.
NEWS影片
http://www.wretch.cc/blog/trackback.php?blog_id=KusoNews&article_id=7647694
迴響(2) :
2樓. 小帥

2007/05/20 19:39

加油~

hey 快變超人ㄉ人!~~~

加油喔~~~ 明年成績一定更好滴!~

^___^

鴨鴨好可愛喔~ 今年又多出了公雞! 哈哈哈 ^___^

1樓. 為台灣加油

2007/05/03 17:19

你真的很有心
張先生我昨天有看到你上電視